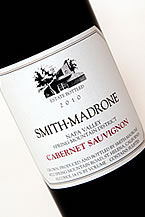 Cabernet Sauvignon
Current Vintages
Past Vintages
Want more words about the '04? Here is a fact sheet with reviews included.
Reviews
About the 2004 Cabernet, A Wealth of Words
Robert Whitley (a distinguished wine writer from San Diego who runs the Critics Challenge Wine competition) recently wrote "I was pleased to see a few personal favorites emerge victorious, especially Smith-Madrone's 2004 Cabernet Sauvignon with a platinum. Smith-Madrone could easily fetch higher prices for its highly regarded mountain cabernet, but owners Stu and Charlie Smith are sticklers about keeping their prices affordable even though they live in the high-rent Napa Valley."
Wine & Spirits Magazine gave the wine 90 points and a Best Buy recommendation. Writer Dan Berger described the wine as "Exceptional - A throwback to an earlier era when Cabernets smelled like the variety!"
Laurie Daniel, in The San Jose Mercury News, described the wine as "dense and dark, with rich black fruit, notes of mocha, cedar and spice, and firm but approachable tannins."
In Food & Wine Magazine, Ray Isle wrote "Smith-Madrone's Cabernet is so good. It's rich with currant and black cherry fruit, held together by savory, spicy tannins."
The New York Times' Eric Asimov wrote about the state of Cabernets from Napa Valley recently, saying "I explored another world of Napa cabernet that you rarely hear about these days, a world with a direct connection to the historical underpinning of cabernet sauvignon as a table wine of balance, grace and unexpected subtlety....I found Napa producers who were making balanced, restrained cabernets all along. … most nowadays largely operate under the radar, popular with their clients but not always recognized for the quality of their wines. I'm thinking of producers like Smith-Madrone." Download the article here.